You Don't Need an Assistant
I know you're thinking, "But I could really use an assistant." But you don't need one. You need more than that. You need a Concierge. A Concierge has your best interest in mind and is just as invested in your success as you are.

Your Concierge isn't afraid to speak up if you can do things more efficiently, and constantly explores solutions so both of you can be more productive. Not everyone can afford (or needs) full-time assistance, so where do you find a Concierge? I'm glad you asked! YourChoice Concierge provides both businesses and individuals with Concierges who have experience tailored to your specific needs.

It's important to us that you see an improvement in your life when you begin working with YourChoice Concierge. Prioritizing and delegating can be a challenge. When everything feels important, it can be hard to decide what tasks you should hand off to your Concierge. We're here to help you get out of your comfort zone and learn how to Dominate Delegating! We provide tips and tools to ensure you get the most out of your partnership with us. This information is critical for building a valuable relationship that allows you to leverage your time in a more positive and productive way.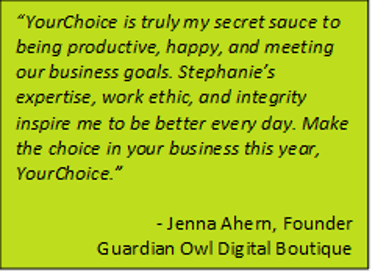 The benefits of partnering with YourChoice Concierge:
Supports you with consultative approach

Identifies how your existing workflow can be delegated or automated for maximum efficiency

Finds ways to better leverage your current support team

Manages the workflow of tackling your tasks so you can focus on the big picture

Continually, consistently provides quality work with quick turnaround times

Team members are meticulously vetted

We can handle a wide scope of to-do's

Flexible hours/pricing options
Please contact us. We can show you how to maximize your time by partnering with a Concierge today to see results tomorrow.